Fibroblast Growth Factor 15 (FGF15)
[Edit]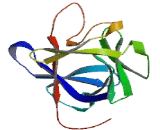 FGF15 is the mouse ortholog of human FGF19 (hence there is no human FGF15).
Fibroblast growth factors, or FGFs, are a family of growth factors involved in angiogenesis, wound healing, and embryonic development. The FGFs are heparin-binding proteins and interactions with cell-surface associated heparan sulfate proteoglycans have been shown to be essential for FGF signal transduction. FGFs are key players in the processes of proliferation and differentiation of wide variety of cells and tissues.
Fibroblast growth factor was found in pituitary extracts by Armelin in 1973 and then was also found in a cow brain extract by Gospodarowicz et al. and tested in a bioassay which caused fibroblasts to proliferate (first published report in 1974).
Organism species: Homo sapiens (Human)
Organism species: Mus musculus (Mouse)
Organism species: Rattus norvegicus (Rat)