Active Advanced Glycation End Product (AGE)
AGEs; Advanced Glycation End Products
ACTIVITY TEST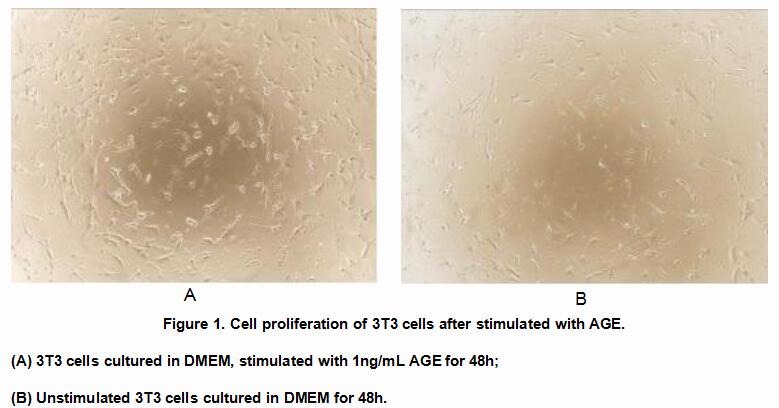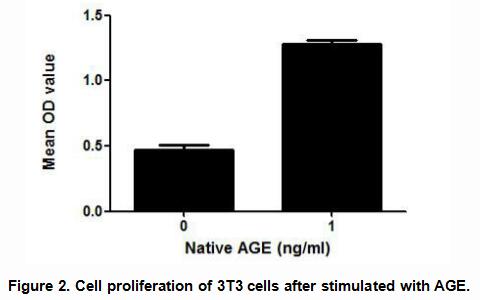 Glucose and other reducing sugars can react non-enzymatically with the amino groups of proteins to form compounds called advanced glycation end products (AGEs). AGEs exert their cellular functions via the interaction with receptor for advanced glycation end products (RAGE). It has been reported that AGE stimulates the differentiation and proliferation of 3T3, thus a proliferation assay was conducted using 3T3 cells. Briefly, 3T3 cells were seeded into triplicate wells of 96-well plates at a density of 2,000 cells/well and allowed to attach overnight, then the medium was replaced with serum-free standard DMEM prior to the addition of various concentrations of AGE. After incubated for 48h, cells were observed by inverted microscope and cell proliferation was measured by Cell Counting Kit-8 (CCK-8). Briefly, 10µL of CCK-8 solution was added to each well of the plate, then the absorbance at 450nm was measured using a microplate reader after incubating the plate for 1-4 hours at 37°C. Proliferation of 3T3 cells after incubation with AGE for 48h observed by inverted microscope was shown in Figure1. Cell viability was assessed by CCK-8 (Cell Counting Kit-8 ) assay after incubation with recombinant AGE for 48h. The result was shown in Figure 2. It was obvious that AGE significantly increased cell viability of 3T3 cells.
USAGE
Reconstitute in PBS (PH7.4) to a concentration of 0.1-1.0 mg/mL. Do not vortex.
STORAGE
Avoid repeated freeze/thaw cycles. Store at 2-8°C for one month. Aliquot and store at -80°C for 12 months.
STABILITY
The thermal stability is described by the loss rate. The loss rate was determined by accelerated thermal degradation test, that is, incubate the protein at 37°C for 48h, and no obvious degradation and precipitation were observed. The loss rate is less than 5% within the expiration date under appropriate storage condition.
GIVEAWAYS
INCREMENT SERVICES
| | |
| --- | --- |
| Magazine | Citations |
| Human Immunology | Threshold serum concentrations of tumour necrosis factor alpha (TNFα) as a potential marker of the presence of microangiopathy in children and adolescents with type 1 diabetes mellitus (T1DM) PubMed: S0198885912005642 |
| Experimental Dermatology | A long-standing hyperglycaemic condition impairs skin barrier by accelerating skin ageing process PubMed: 22017743 |
| J Hum Nutr Diet. | Daily intake of vitamin D- or calcium-vitamin D-fortified Persian yogurt drink (doogh) attenuates diabetes-induced oxidative stress: evidence for antioxidative properties of vitamin D. Pubmed: 23829785 |
| Gene | Association of RAGE gene polymorphism with circulating AGEs level and paraoxonase activity in relation to macro-vascular complications in Indian type 2 diabetes mellitus patients. Pubmed: 23721855 |
| Gynecol Endocrinol. | Lipoprotein-associated phospholipase A2 and AGEs are associated with cardiovascular risk factors in women with history of gestational diabetes mellitus. Pubmed:24397392 |
| Microvasc Res. | Role of advanced glycation end product (AGE)-induced receptor (RAGE) expression in diabetic vascular complications Pubmed:24984291 |
| Free Radic Res. | Nitroxides prevent protein glycoxidation in vitro. Pubmed:25363554 |
| Sleep and Breathing | Serum advanced glycation end products are associated with insulin resistance in male nondiabetic patients with obstructive sleep apnea Pubmed:25566941 |
| Chem Biol Interact | Ascorbic acid and protein glycation PubMed: 26163454 |
| Osteoarthritis Cartilage | Establishment of a rabbit model to study the influence of advanced glycation end products accumulation on osteoarthritis and the protective effect of pioglitazone PubMed: 26321377 |
| journal of human hypertension | Relationship between serum levels of endogenous secretory RAGE and blood pressure in male nondiabetic patients with obstructive sleep apnea PubMed: 25994997 |
| Redox Biol. | Glycation of bovine serum albumin by ascorbate PubMed: 26202868 |
| J Oral Pathol Med | Impact of morbid obesity and bariatric surgery on antioxidant/oxidant balance of the unstimulated and stimulated human saliva PubMed: 26608886 |
| J Agric Food Chem | Inhibition of Advanced Glycation Endproduct Formation by Lotus Seedpod Oligomeric Procyanidins through RAGE-MAPK Signaling and NF-κB Activation in High-Fat-Diet Rats. PubMed: 26207852 |
| Kineziologija | ADVANCED GLYCATION END PRODUCTS'RESPONSE TO RESISTANCE TRAINING IN POSTMENOPAUSAL WOMEN WITH TYPE II DIABETES 140251: |
| Food Funct. | Effects of edible bird's nest on hippocampal and cortical neurodegeneration in ovariectomized rats PubMed: 25920003 |
| Molecular and Cellular Endocrinology | Beneficial effects of urine-derived stem cells on fibrosis and apoptosis of myocardial, glomerular and bladder cells Pubmed:26952874 |
| Advances in Experimental Medicine and Biology | Effects of S-Nitroso-N-Acetyl-Penicillamine (SNAP) on Inflammation, Lung Tissue Apoptosis and iNOS Activity in a Rabbit Model of Acute Lung Injury Pubmed:27334732 |
| Eur J Vasc Endovasc Surg | The Receptor for Advanced Glycation End Products (Rage) and Its Ligands in Plasma and InfrainCavia (Guinea pig )inal Bypass Vein Pubmed:26905625 |
| molecular and cellular endocrinology | Berberine exerts renoprotective effects by regulating the AGEs-RAGE signaling pathway in mesangial cells during diabetic nephropathy. pubmed:28087385 |
| cellular physiology and biochemistry | Inhibition of Methylglyoxal-Induced AGEs/RAGE Expression Contributes to Dermal Protection by N-Acetyl-L-Cysteine. pubmed:28214842 |
| General Physiology and Biophysics | Glutathione is the main endogenous inhibitor of protein glycation. pubmed:28218612 |
| Osteoarthritis and Cartilage | Establishment of a rabbit model to study the influence of advanced glycation end productsaccumulation on osteoarthritis and the protective effect of pioglitazone. pubmed:26321377 |
| Scientific Reports | Advanced glycation end products promote VEGF expression and thus choroidal neovascularization via Cyr61-PI3K/AKT signaling pathway pubmed:29097668 |
| INTERNATIONAL JOURNAL OF MOLECULAR MEDICINE | Lychee seed extract protects against neuronal injury and improves cognitive function in rats with type II diabetes mellitus with cognitive impairment pubmed:29138799 |
| 台湾农业研究 | (台灣農業研究67 (4): 355-364) 香菇柄水萃物改善糖尿病降低阿茲海默氏症罹病風險初探 |
| Biological Trace Element Research | Altered Mineral Metabolism and Disequilibrium Between Calcification Promoters and Inhibitors in Chronic Hemodialysis Patients Pubmed: 30847765 |
| International journal of molecular sciences | Cellular Metabolomics Reveal the Mechanism Underlying the Anti-Atherosclerotic Effects of Aspirin Eugenol Ester on Vascular Endothelial Dysfunction Pubmed: 31261711 |
| Evidence-Based Complementary and Alternative Medicine | Fushiming Capsule Attenuates Diabetic Rat Retina Damage via Antioxidation and Anti-Inflammation |