Neurofilament 3 (NEF3)
[Edit]
NEFM; NF-M; NFM; Neurofilament,Medium Polypeptide; 160 kDa neurofilament protein; Neurofilament triplet M protein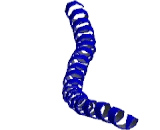 Neurofilaments are the 10 nanometer (10nm) or intermediate filaments found specifically in neurons. The subunits of neurofilaments are related structurally to the 10nm or intermediate filaments of other tissues such as the keratin subunits, which make 10nm filaments expressed specifically in epithelia.
The class III intermediate filament protein subunit peripherin is found in neurofilaments along with the class IV subunits in a few neurons, mostly in the peripheral nervous system.
The International Radiation Hybrid Mapping Consortium mapped the NEF3 gene to chromosome 8p21 found that the mouse homologs of both of these genes appear to be on chromosome 14.
Organism species: Homo sapiens (Human)
Organism species: Mus musculus (Mouse)
Organism species: Rattus norvegicus (Rat)