Active Interleukin 1 Alpha (IL1a)
IL1-A; IL-1α; IL1F1; Preinterleukin 1 Alpha; Hematopoietin-1; Pro-Interleukin-1-Alpha; Interleukin-1 Family Member 1
Product No.

APA071Hu02

Organism SpeciesHomo sapiens (Human) Same name, Different species.
Buffer Formulation

20mM Tris, 150mM NaCl, pH8.0, containing 1mM EDTA, 1mM DTT, 0.01% SKL, 5% Trehalose and Proclin300.

Traits

Freeze-dried powder

Purity

> 95%

Isoelectric Point

4.9

Applications

Cell culture; Activity Assays.

DownloadInstruction Manual
UOM 10µg50µg 200µg 1mg 5mg
ACTIVITY TEST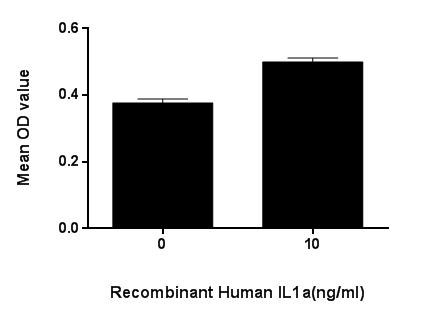 Figure. Cell proliferation of Jurkat cells after stimulated with IL1a.

Figure. Cell proliferation of Jurkat cells after stimulated with IL1a.
Interleukin 1 alpha (IL1α) also known as hematopoietin 1 is a cytokine of the interleukin 1 family that in humans is encoded by the IL1A gene. IL1α is produced mainly by activated macrophages, as well as neutrophils, epithelial cells, and endothelial cells. It possesses metabolic, physiological, haematopoietic activities, and plays one of the central roles in the regulation of the immune responses. It binds to the interleukin-1 receptor. It is on the pathway that activates tumor necrosis factor-alpha. To test the effect of IL1a on cell proliferation, Jurkat cells were seeded into triplicate wells of 96-well plates at a density of 2,000 cells/well with 2% serum standard 1640 including various concentrations of recombinant human IL1a. After incubated for 96h, cells were observed by inverted microscope and cell proliferation was measured by Cell Counting Kit-8 (CCK-8). Briefly, 10µL of CCK-8 solution was added to each well of the plate, then the absorbance at 450nm was measured using a microplate reader after incubating the plate for 1-4 hours at 37℃. Proliferation of Jurkat cells after incubation with IL1a for 96h observed by inverted microscope was shown in Figure 1. Cell viability was assessed by CCK-8 (Cell Counting Kit-8) assay after incubation with recombinant IL1a for 96h. The result was shown in Figure 2. It was obvious that IL1a significantly increased cell viability of Jurkat cells.
(A) Jurkat cells cultured in 1640, stimulated with 10ng/mL IL1a for 96h;
(B) Unstimulated Jurkat cells cultured in1640 for 96h.
USAGE
Reconstitute in 20mM Tris, 150mM NaCl (pH8.0) to a concentration of 0.1-1.0 mg/mL. Do not vortex.
STORAGE
Avoid repeated freeze/thaw cycles. Store at 2-8°C for one month. Aliquot and store at -80°C for 12 months.
STABILITY
The thermal stability is described by the loss rate. The loss rate was determined by accelerated thermal degradation test, that is, incubate the protein at 37°C for 48h, and no obvious degradation and precipitation were observed. The loss rate is less than 5% within the expiration date under appropriate storage condition.
GIVEAWAYS
Molecular Mass Marker for Protein
Polyacrylamide Gel Electrophoresis (PAGE) Experiment Service

Real Time PCR Experimental Service
INCREMENT SERVICES
| | |
| --- | --- |
| Magazine | Citations |
| The Veterinary Journal | Quantitative assessment of hsp70, IL-1β and TNF-α in the spinal cord of dogs with E40K SOD1-associated degenerative myelopathy Pubmed: 24662024 |
| Int J Clin Exp Pathol | Expression of S100 family proteins in neonatal rats with sepsis and its significance PubMed: 25973048 |
| Tumor Biology | Hypoxia-induced secretion of IL-17 from adipose-derived mesenchymal stem cell promotes growth and cancer stem cell properties of Burkitt lymphoma PubMed: 26695151 |
| Parasites & Vectors | Vaccination of rabbits with immunodominant antigens from Sarcoptes scabiei induced highlevels of humoral responses and pro-inflammatory cytokines but confers limited protection. pubmed:27502394 |
| Cell Death Dis. | Salusin-β contributes to oxidative stress and inflammation in diabetic cardiomyopathy pubmed:28333148 |
| Journal of Cosmet Dermatol. | Ultraviolet A photosensitivity profile of dexchlorpheniramine maleate and promethazine-based creams: Anti-inflammatory,antihistaminic, and skin barrier protection properties DOI: 10.1111/jocd.12349 |
| Scientific Reports | Optimization of Storage Temperature for Retention of Undifferentiated Cell Character of Cultured Human Epidermal Cell Sheets pubmed:28811665 |
| Arthritis Research and Therapy | Increased synovial lipodystrophy induced by high fat diet aggravates synovitis in experimental osteoarthritis. pubmed:29191221 |