Ribonuclease H (RNASEH)
[Edit]
Rnase-H; RNASEH1; RNH1; Ribonuclease H type II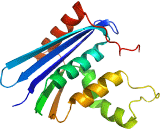 The enzyme RNase H is a ribonuclease that cleaves the 3'-O-P-bond of RNA in a DNA/RNA duplex to produce 3'-hydroxyl and 5'-phosphate terminated products. RNase H is a non-specific endonuclease and catalyzes the cleavage of RNA via an hydrolytic mechanism, aided by an enzyme-bound divalent metal ion.
Members of the RNase H family can be found in nearly all organisms, from archaea and prokaryota to eukaryota. In DNA replication, RNase H is responsible for cutting out the RNA primer, allowing completion of the newly synthesized DNA.
Retroviral RNase H, a part of the viral reverse transcriptase enzyme, is an important pharmaceutical target, as it is absolutely necessary for the proliferation of retroviruses, such as HIV.
Organism species: Homo sapiens (Human)
Organism species: Mus musculus (Mouse)
Organism species: Rattus norvegicus (Rat)