Tumor Necrosis Factor Receptor Superfamily, Member 10D (TNFRSF10D)
[Edit]
CD264; TNFRSF10-D; DCR2; TRAILR4; TRUNDD; Decoy receptor 2; TNF-Related Apoptosis-Inducing Ligand Receptor 4; TRAIL Receptor With a Truncated Death Domain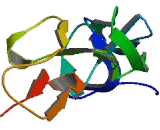 is a member of the TNF-receptor superfamily. This receptor contains an extracellular TRAIL-binding domain, a transmembrane domain, and a truncated cytoplasmic death domain. This receptor does not induce apoptosis, and has been shown to play an inhibitory role in TRAIL-induced cell apoptosis.
Independently, Marsters et al. (1997) and Pan et al. (1998) isolated cDNAs encoding TRAILR4, which they designated 'decoy receptor-2' (DCR2) and 'TRAIL receptor with a truncated death domain' (TRUNDD), respectively.
By analysis of radiation hybrid panels, Degli-Esposti et al. (1997) and Marsters et al. (1997) mapped the TRAILR4 gene to 8p21, in a cluster with the genes encoding TRAILR1, TRAILR2, and TRAILR3.
Organism species: Homo sapiens (Human)